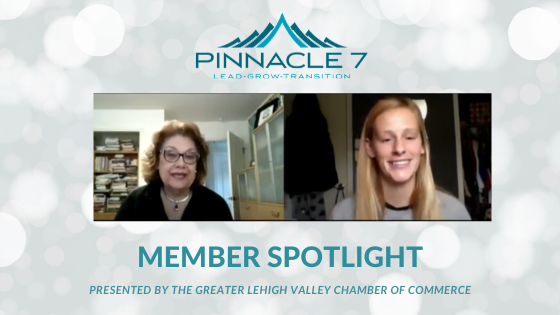 12 May

Member Spotlight With The Greater Lehigh Valley Chamber

Michelle Landis, owner of Pinnacle 7, was recently featured in a Member Spotlight segment with Ashley Lorah from the Greater Lehigh Valley Chamber of Commerce. Watch their interview and learn about how businesses can bounce back from the shutdowns and pivot their offerings.

See the original member spotlight video on Facebook on Facebook here.

Ashley Lorah, with the Greater Lehigh Valley Chamber of Commerce, puts the Member Spotlight onto Michelle Landis, owner of the local small business coaching service, Pinnacle 7.

AL: Michelle, tell us about you and your business?

ML: I've been in business for about 15 years as a small business coach and consultant Pinnacle 7 is my coaching and consulting business and we work with small- to medium-sized businesses that typically range from 1 million to 25 million in annual revenue. There is also a piece of Pinnacle 7 that is specifically focused on Executive Leadership Coaching.

AL: What was your background before becoming a business coach?

ML: : I began my career in the corporate world as an Executive at Armstrong and GE. I had held a variety of sales and operations roles and ended running a small SBA business GE acquired. I really had a wonderful experience in corporate and got to travel the world. My career in corporate required me to move over eight times and I decide I wanted to get back to community. I chose to switch my career path and I decided to take all of that business background and start running my own business.

AL: Tell us about the name of your business, Pinnacle 7?

ML: The name Pinnacle 7 represents The Seven Summits, which are the 7 Highest Mountains on each of the 7 Continents. Owning a small business is kind of like climbing to the peak of those mountains. You hit plateaus, need to adjust and you just have to keep going. It's considered one of the highest levels of success to climb 7 Peaks. That is what I want for my clients — for them to be able to reach the highest pinnacle of success in their business.

AL: What are some of your past successes?

ML: How we define success is different for each of my clients. My client base is very diverse. Some clients are not looking to necessarily grow their business. They may just want to work less in the business. We've also had clients who were almost ready to fall off of the cliff, figuratively speaking, and we were able to help them make a turnaround and became extremely profitable. Some clients struggle working with teams and team development in general and you can't have a successful business without a really good team behind you. So we spend a lot of time helping clients define roles and build their team. My services are really customized to each client depending on their needs and we engage our clients in everything…from learning how to understand financials, to negotiating the sale of your business, and everything in between.

AL: Like everyone else, you've had to make shifts during COVID-19. Tell us a little bit about how you've managed to maintain business?

ML: Maintaining my businesses is all about helping my clients to maintain theirs. Many of my executive clients have mostly been stable, but, as expected, my small businesses are experiencing some major disturbances to their businesses. Due to PPP monies I made the decision to offering several months of complimentary coaching for my small business clients that were really suffering. However, I would like to point out that there are some really awesome successes going on right now too. One of my clients is a larger Vet, and they switched to curbside service, and also started doing Telehealth thus maintaining their client base and setting themselves up for new telehealth services. Most small businesses are just trying to figure out how they are going to survive during and after COVID-19 and then grow and thrive…that s what we are focusing on.

Really, everyone is trying to help out in whatever ways they can. You often hear "We're All in This Together," but it's really true. I am trying to buy from small businesses and order take out as often as possible too. I want to support as many businesses in my community as I can, so we can help them to remain in business in the future.

AL: What does your involvement in the Chamber look like?

ML: I have always been so grateful for the Chamber and the many ways they have helped me and my business. The first networking event I attended after started my business was a Chamber event. So many of the people who I met then are now my alliance partners. I have helped serve on many of the boards and committees from the Small Business Council to Masterminds. And right now I'm involved as a mentor in the Women-to-Women Mentoring Program. We have about 20 mentees in this year-long program. It's a wonderful development opportunity for emerging Women Leaders.

A big thank you to Ashley and The Greater Lehigh Valley Chamber Of Commerce for this engaging Member Spotlight interview. We appreciate the many efforts of The Chamber to help all of our small business owners as they navigate through the many changes caused by COVID-19.
---
Michelle Landis, Founder and Principal, Master Business Coach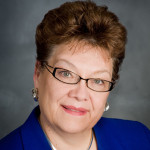 As a business coach, I use a unique blend of coaching and consulting to help business owners achieve a higher level of performance for both themselves and their business. It's a very direct approach that provides my clients with insights into what is coming next, laser-sharp focus and the opportunity to practice, make mistakes and learn in a safe and supportive environment.
Read Michelle's Full Bio
Learn More About Business Coaching Services
Follow Pinnacle 7 On Facebook
Connect On LinkedIn